About The Library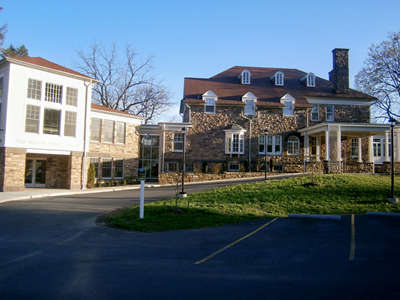 The Milton Public Library has been serving the community since 1923.  It is currently located on 6 acres of beautiful manicured lawn that showcase an abundance of cherry trees. The stone house was purchased and the renovations completed in 2012.
The $4 million dollar project offers a 11,000 square foot library, learning facility and rental space opportunity. It's truly a library unlike any other in the state of Pennsylvania.
The library retains multiple pieces of the original architecture including a wall safe, two fireplaces and the front doors from which our logo is derived.
Our mission is navigated by the following assumptions:
A responsibility to offer free library services

The borough's commitment to a municipal library

A responsiveness to the community

Utilization of technology

Cooperative efforts with other borough organizations, other libraries, and other agencies

Commitment to intellectual freedom for everyone served
Board Meeting Information
The Board meetings are held monthly and are open to the public.
Meetings are held on the third Wednesday of every month at 6:00 PM at the Library.
For more information, please contact the library at 570-742-7111.
Library Policy

Library Cards
Pennsylvania residents can sign up for a free library card by providing a form of government ID with current proof of address. Anyone living outside the state of Pennsylvania is asked to pay a $15 annual non-resident fee (with the exception of students in Milton Schools).
Acceptable forms of ID include a Driver's License, State Photo ID card, Military ID card and Passport.
Materials
Circulating materials have a loan period of 14 days and can be renewed two times. New adult books have a loan period of 7 days. If an item is on hold for another patron, it cannot be renewed.
DVDs
A total of 3 DVDs may be taken out at one time for a loan period of 7 days. DVDs cannot be put on hold.
Patrons aged 10-17 require the permission of a parent or legal guardian to borrow DVDs.
Overdues
Fines are $0.25 per day per book, $1.00 per day for DVDs.
To avoid fines, materials must be returned by the due date given upon checkout. Items can be renewed online or by phone.
Drop Boxes

Materials can be returned respectively in the book drop or DVD drop boxes. If items are put in a box before or after the library is open by the given due date, they are considered to be on time.
Computers
Computers are available for public use with a valid Milton Public Library card.
All patrons between the ages of 10 and 17 must have prior parental permission to use our computers and internet.
WiFi is available for guests to use their own electronic devices.