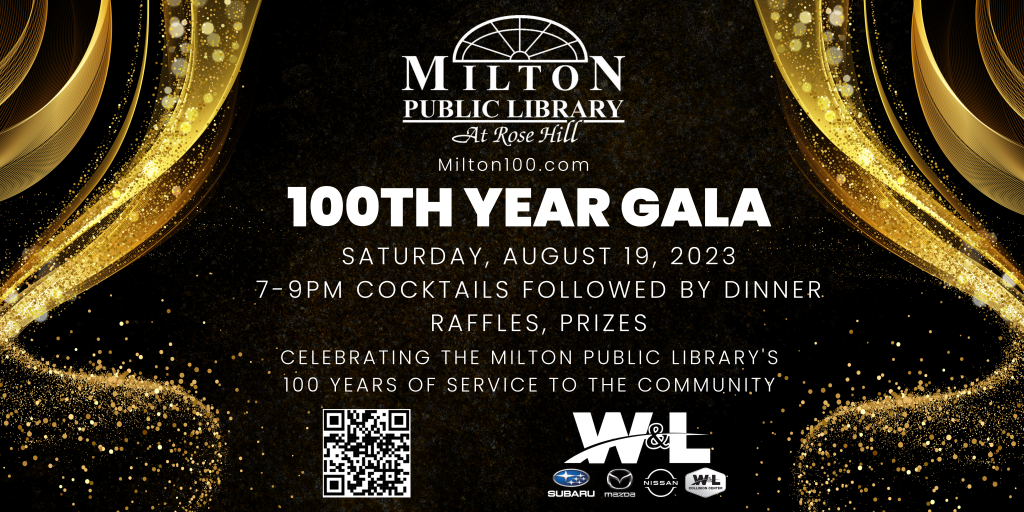 Join Us in Celebrating 100 Years of Milton Public Library 
You're cordially invited to the grandest event of the year – the Milton Public Library's 100th Year Gala! Step into an enchanting evening of celebration as we commemorate a century of serving our beloved community. It's time to revel in the rich history, accomplishments, and the profound impact our library has had on countless lives.
 A Legacy of Knowledge: Take a nostalgic journey through time as we showcase the remarkable journey of Milton Public Library. Discover the milestones, remarkable stories, and treasured memories that have shaped our community.
 Festive Atmosphere: Bask in the joyful ambiance as we celebrate this momentous occasion. The gala will be alive with laughter, conversations, and the shared love for literature and learning.
Delicious Delights: Savor a delightful assortment of culinary delights prepared just for the evening. Prime Rib, Broccoli Alfredo Chicken, Salad, Brussel Sprouts and Green Beans are all on the menu.
Libation Station: Raise a glass and toast to a century of community service! Enjoy a selection of handcrafted cocktails, fine wines, and refreshing beverages to complement your evening.
Live Entertainment: Immerse yourself in an evening of entertainment, as live musicians and performers serenade you with enchanting melodies and captivating performances. Dance the night away or simply sit back and revel in the artistic ambiance.
Capture the Memories: Don't miss the chance to capture the magic of this extraordinary night. Take plenty of pictures of this night to remember.
Join us for an evening filled with nostalgia, camaraderie, and a deep appreciation for the vital role the Milton Public Library has played in our community for 100 years. Let us come together to honor the past, celebrate the present, and build a future brimming with knowledge and opportunity.
RSVP Now! Limited seats available.
We look forward to sharing this remarkable milestone with you. Together, let's raise a toast to the Milton Public Library's extraordinary century of service and embark on an exciting future!